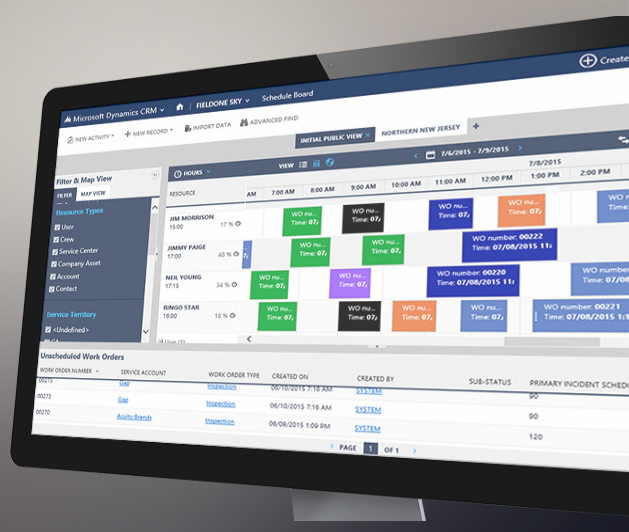 Last year Microsoft acquired FieldOne, a leading field management solution, and have integrated it with their Microsoft Dynamics CRM system. In this blog we explore some of the key features of this powerful platform.
---
Work Orders: These are the essential element to tracking a field service within Microsoft Dynamics CRM, tracking a job from conception to completion. This includes capturing the location, type of work, engineer, time spent and part utilisation.
To find out more, watch this video: https://community.dynamics.com/crm/b/crmvideos/archive/2016/07/25/generating-work-orders-in-field-service
---
Schedule Board: Provides a graphical tool that allows your back office team to schedule and view active Work Orders. This enables users to view Work Orders by engineer, route or on an interactive map. Unscheduled Work Orders can be quickly highlighted and allocated to an engineer using drag and drop tools, or automatically planned using the schedule assistant.
This video provides more information: https://community.dynamics.com/crm/b/crmvideos/archive/2016/07/19/configuring-and-using-the-schedule-board-in-dynamics-crm
---
Mobile Workforce: Enable your mobile workforce to access Work Orders whilst they are out on the road. Whether they have iOS or Android tablets or phones they can get route information, update Work Orders, add notes, book out parts, upload photos and capture signatures.
Read more here: https://community.dynamics.com/crm/b/crmvideos/archive/2016/07/25/manage-your-mobile-workforce-with-field-service